In chapter 8, our friend and lonely Space Cowboy George was still very confident, that his devastating situation couldn't get worse anymore – and what is promptly happening in episode 9?
THINGS ARE GETTING EVEN WORSE!!!
Still, George continues to investigate as curiosity and the thrive to survive forces him to do so.
But how much more can we expect any comics-protagonist to take?
What sick-soul author is that, that rips such stouter Hero into perdition?!!!
Will his slides into the universal infernal abysm ever end?!!!
Does the going need to get rough all the time?!!!
Outrageous!! Pure Sadism!!!! Scandalous!!!! Schocking !!!! Obscene!!! Vulgar!!!!
WE URGE YOU TO STOP READING THIS SCANDALOUS MAGNUS OPUS IMMEDIATELY!!!!!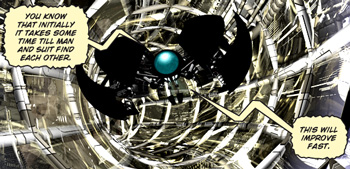 Number-9-Number-9-Number-9-Number-9-Number-9
Da dachte unser Freund und lonely Spacecowboy George in Folge 8 noch ganz zuversichtlich, dass seine verheerende Situation jetzt wohl kaum noch wesentlich schlimmer werden könne – und was wird sie in der Folge 9 prompt?
NOCH WESENTLICH SCHLIMMER!!!
Wie viel kann einem Comic-Protagonisten denn noch zugemutet werden?
Was für eine kranke Autoren-Seele muss das sein, welche einen so wackeren Helden dermassen ins Verderben reisst?!!!
Nimmt den die Talfahrt in die Höllenschlünde des Universums kein Ende?!!!
Und kommt es denn wirklich immer nur noch dicker?!!!!
Empörend!! Sadismus pur!!!! Schweinerei!!!!!! Obszön!!!!!! Geschmacklos!!!!!!!
VOM WEITERLESEN DIESES SCHÄNDLICHEN OPUS' WIRD DRINGEND ABGERATEN!!!!!!
Tags: