George has lost his AIU and found a new suit!
But not only that, he also found a lot of answers on burning questions…
While his suit goes walking with him he is fighting for his life, to find out he likes his new suit ;-)
I am thanking all past and future supporters …! Keep using the donate button, please ;-)
Also please continue to use your own social media platforms to support the spreading of the word Space Sleep Syndrome.
We have reached the 5'000 visitors counter and past by it easily to come to more than 5300 hits so far.
Please share Space Sleep Syndrome with all your friends and acquaintances using the Facebook Share or Teilen Options.
That would help a lot to advertise Space Sleep Syndrome in this world where Comics and Cartoons sometimes are made responsible for hate campaigns and rioting!
By the end of the year we intend to bring out Space Sleep Syndrome  in multiple languages that would allow the world to appreciate a common platform of enjoyment in a common language as contribution to peace and harmony on this World – or what is left over of it.
Please spread the word and do not forget: register using the Stay Informed Option within the Spacebook options tab: you would only get a once-a-month short eMailed update on this subject.
Thank you,
Melk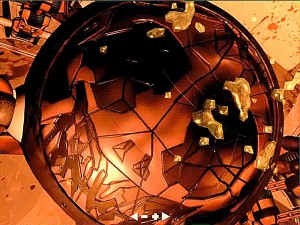 Kapitel 10 – aber was für eine Zehn!
Langsam steuern wir aufs Ende der Geschichte zu und so ist es nicht verwunderlich, dass Space Sleep Syndrome immer schneller in Fahrt kommt!
Die Frage ist nur, wem eher die Puste ausgeht: unserem Freund und Kupferstecher George oder der Leserschaft?
An dieser Stelle: Danke fürs dran bleiben!!!
Und nicht minder 'Danke!' für die edeln Spenden!!!
Zum Schluss noch dies: Auf Ende des Jahres hin sind Sprachversionen geplant – als Beitrag zur Völkerverständigung und für Friede und Freiheit in dieser einzigen Welt, die wir im Moment so zur Verfügung haben. Bitte weitersagen und auch unbedingt die Stay Informed Option im Spacebook benützen und sich registrieren: man kriegt höchstens 1x im Monat ein kurzes Mail mit Update…
Bis auf Weiteres
Melk
Tags: