Outer space, infinite space. The Year 2012. This is the first chapter of «Space Sleep Syndrome.
Even today, a comfortable shiver runs down my spine, when thinking of the smell of fresh printing ink, which came with the opening of a new Comic Book when I was a kid.
And I am seeing Comics or «Graphic Novels», as they are called a bit more mature and chic nowadays, in a different perspective – not neglecting the teasing effects of print fragrance…
So why publish a web comic that doesn't smell…? The answer is simple – a printed publication comes with much more external – and not only financial- efforts.  In fact a web comic returns exactly 0 cents minus costs for hosting and domain – so not very lucrative. But therefore costs for overhead, print, marketing and distribution disappear – stuff one has to grapple with and that is just «uneconomical » and can eat «creative energy». A Web Comic also allows keeping up «journalistic independency» from Investors or Publishers and doesn't need energy consuming battling anymore.
In a way one could say, I made «a virtue out of necessity». The missing fragrances of printing ink are marginally compensated by trying to optimize the requirements of the medium «web publication» by the following:
– keep it simple: no scrolling needed on screen to view a sequence.
(…except here…)
– obvious & suggesting: The Comic is partially and in short sequences animated; moving pics
– promised: I won't sing more than necessary – every once and a while, an acoustic snippet is used.
I will publish «Space Sleep Syndrome» (for the time being) only in English. «Sp-Sl-Sy» is partially implemented using digital 3D-Techniques, two topics I will comment at a later stage.
If you want to comment this blog, you can do that here.
And of course I would be very pleased with your entry in our Guestbook.
I very much hope you'll like «Space Sleep Syndrome». May be you know someone, who could be interested in «Sp-Sl-Sy»? – Than recommend it to friends and relatives here.
Finally I would like to thank my neighbour «Garth Vader» (and his team of international experts like Oink from well.com) acknowledging the merits' for correct and accurate usage of the English language for the comics. However when the related remuneration, paid in beers, increase any further, I soon be illiquid and need to file for bankruptcy…
I wish you all a Happy New Year and all the best!
Cheers!
Melk
Und wieder ein weiterer Web-Comic
Der Weltraum, unendliche Weiten. Wir schreiben das Jahr 2012. Dies ist also das erste Kapitel von «Space Sleep Syndrome».
Noch heute läuft mir beim Gedanken an den Geruch frischer Druckfarbe, der einst beim Öffnen eines neuen Comic in die Kindernase strömte, ein wohliger Schauer über den Rücken. Und sehe ich Comics oder «Graphic Novels», wie es in diesen Tagen ein bisschen erwachsener und chic heisst, mit ganz andern Augen – der Wirkung des betörenden Druck-Duftes tut dies bis heute keinen Abbruch.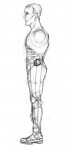 Warum also einen Web-Comic publizieren, der ja dann doch nach nichts riecht…? Die Antwort ist einfach – eine gedruckte Publikation ist mit sehr viel mehr «äusserem» Aufwand verbunden. Und zwar nicht nur in finanzieller Hinsicht. Zwar wirft ein Web-Comic per se genau mal 0 Cent minus Kosten für Host und Domaine ab – kein «lukratives Geschäft» also. Dafür fällt der Organisationsaufwand für Druck(finanzierung) und Vertrieb weg – etwas das «unökonomisch» viel «kreative Energie» fressen kann. Auch die «publizistische Freiheit» von Geldgebern oder von einem Verlag muss nicht energieraubend verteidigt werden.
In gewisser Weise könnte man also durchaus sagen, ich habe «aus der Not eine Tugend» gemacht.
Ist der fehlende Duft der Druckfarbe auch kaum mit etwas aufzuwiegen, habe ich versucht, ein par Dinge im Hinblick auf eine Web-Publikation zumindest «mediumgerecht» zu optimieren:
-simpel: Du brauchst beim Betrachten am Bildschirm nicht zu scrollen.
-naheliegend: Der Comic ist teilweise in kurzen Sequenzen (halb)animiert, sprich: das Bild zum Teil bewegt.
-versprochen: Ich werde nicht mehr als nötig singen – ab und an aber sicher den einen oder andern Ton-Schnipsel einbauen.
Ich veröffentliche «Space Sleep Syndrome» (vorerst nur) in Englisch. «Sp-Sl-Sy» wird mit digitaler 3-D-Technik realisiert. Zwei Themen, zu denen ich mich zu einem späteren Zeitpunkt äussern werde.
Wenn du diesen Blog-Eintrag kommentieren willst, kannst du das hier tun.
Natürlich freue ich mich über einen Eintrag von dir im Gästebuch.
Ich hoffe sehr, dir gefällt «Space Sleep Syndrome». Vielleicht kennst du jemand, der sich für «Space Sleep Syndrome» interessieren könnte – empfiehl Freunden und Bekannten «Sp-Sl-Sy» hier.
Zum Schluss gilt es meinem Nachbarn «Garth Vader» (und seinem Expertenteam) für seine Verdienste um die korrekte und akkurate englische Sprache ganz, ganz herzlich zu danken. Wenn seine in Bier abgerechnetes Honorar allerdings weiterhin so steigt, bin ich schon bald nicht mehr liquid…
Für das neue Jahr wünsche ich allen nur das Beste!
Cheers!
Melk